ARGYLE ARCGUARD SHIRT 12 CAL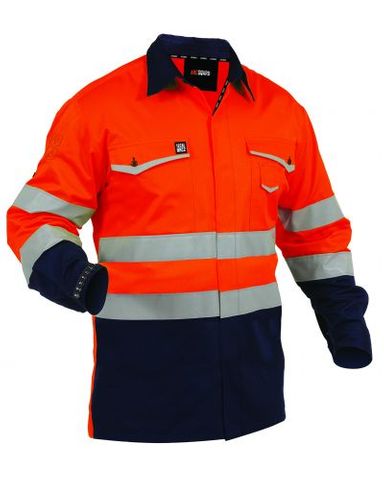 Stock Code:
21217-NA/OR-2XL
Stock Code:
21217-NA/OR-3XL
Stock Code:
21217-NA/OR-5XL
Stock Code:
21217-NA/OR-L
Stock Code:
21217-NA/OR-M
Stock Code:
21217-NAH/OR-M
Stock Code:
21217-NA/OR-S
Stock Code:
21217-NA/OR-XL
Description
- ARCGUARD® INHERATEX DAY/NIGHT SHIRT
- Built with care from a 240gsm INHERATEX
Ripstop fabric blend.
- This garment is fully Inherent with a lifetime
guarantee on every seam.
- Ultraflect FR Tape - the longest lasting tested
and certified retro-reflective tape.
- Assembled with a Nomex inherent thread.
- Large plans pocket on chest with velcro closure
- External cellphone pocket with velcro closure
- Vented back and under arms
- Uses UltraFlect superior retro-reflective fire
retardant industrial tape

STANDARDS:
- Fabric complies with ENISO 11612 A, B1, C1 Protective
clothing to protect against heat and flame.
- ENISO 11611 Protective clothing for use in welding and
allied processes.
- NFPA 70E HRC Electrical Arc flash protection - meets
the 8 cal/cm2 Arc rating requirements for HRC 2
ATPV=12 cal/cm2.
- EN1149:2008 Protective garments that comply with
Electrostatic properties (anti-static).
- Design complies with: AS/NZS 4602.1:2011 + Amdt
No.1: Nov 2016 Day/Night use. AS/NZS 1906.4:2010
High Visibility Fabric and Tape complies with this standard.
- NFPA 2112 - Standard on protective clothing for protections
of industrial personnel against flash fire, 2012 edition. ASTM
F1959, Standard on flame resistant textile materials for wearing
apparel for use by electrical workers exposed to momentary
electric arc and related thermal hazards.