ARCGUARD FR INDUSTRIAL JACKET TTMCW-17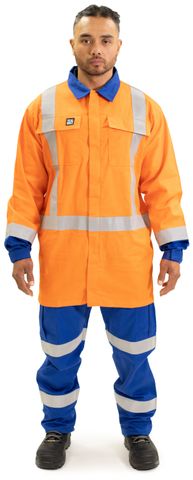 Stock Code:
21312X-ROR-2XL
Stock Code:
21312X-ROR-3XL
Stock Code:
21312X-ROR-4XL
Stock Code:
21312X-ROR-5XL
Stock Code:
21312X-ROR-XL
Description
Features:

- X reflective tape design on the back for front-to-back differentiation at
night
- Non conductive vislon zip closure with placket to protect zip
- Two chest pockets with velcro closure
- Split side seams in hem with velcro closure for comfort
- Velcro tab adjustment on sleeves for wearers comfort and enhanced
glove fit
- FR UltraFlect® retro-reflective tape

Standards:
- 11.0cal/cm² ATPV+ HRC2 Arc rating. ASTM F1959/F1959M-13.
- Fire Retardant, Arc Protection
- Fabric meets the requirements of standards:
- TTMC-W17 Compliant
- Design complies with AS/NZS 4602.1:2011 + Amdt No.1: Nov 2016
Day/Night use
- Tape and Fabric complies with AS/NZS 1906.4:2010
- Fabric complies with EN ISO 14116:2015.

**Price for jacket only.