ANSELL ALPHATEC GLOVES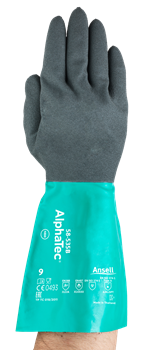 Description
- Revolutionary Ansell Grip Technology – a nitrile layer
filled with microscopic channels that actively transfer
oils and other lubricants away from the gripping surface.
- Consistent polymer coating significantly reduces the
likelihood of chemical leakage.
- Unique combination of grip, chemical resistance and
superior comfort.
- Superior tactility and dexterity for greater control,
significantly reducing fatigue and Carpel Tunnel
Syndrome-related injuries.
- Suitable for - Chemical plants and transportation,
Chemical processing, oil refining
and petrochemicals, Cleaning and de-greasing,
Handling equipment and abrasive materials coated
with oil, grease, acids and solvents. Handling fillers,
solvents, dye agents, cleaning solvents, cement and
mortar mixing.