SAFETY SHOE OLIVER 49405 LADIES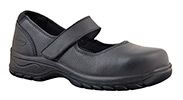 Description
- Anti Static Sole
- Full lining infused with an anti-microbial solution which protects against odour, staining
and deterioration caused by bacteria.
- Soft shock absorbing midsole
-hard wearing outer sole for tough working conditions
-COMFORTcushion® Impact Absorption System with a combination of cellular
urethane and PORON to protect the toe and heel of the foot.
- Oliver's comfort footbed has a perforated foam layer to enhance natural airflow to the feet
and is now treated with an anti-microbial solution.
- NATUREform safety steel toe cap protection with a wide profile ensures toes are not in
contact with the toe cap while the latex liner allows for greater comfort.
- Sole resistant to mineral and organic oils and acids.
-Superior cut, split and crack resistant sole.
- PB Dual Density PU / Rubber Sole
- Heat Resistant to 300º Celsius.
- Excellent slip resistant sole, rated SRC.
- Especially designed last for the contours of a women's foot.
- While stocks last, we may have to offer an alternative or refund if product
goes out of stock.