Home

/

FIRST AID KIT INDUSTRIAL 1-50 METAL BOX WITH CONTENTS
FIRST AID KIT INDUSTRIAL 1-50 METAL BOX WITH CONTENTS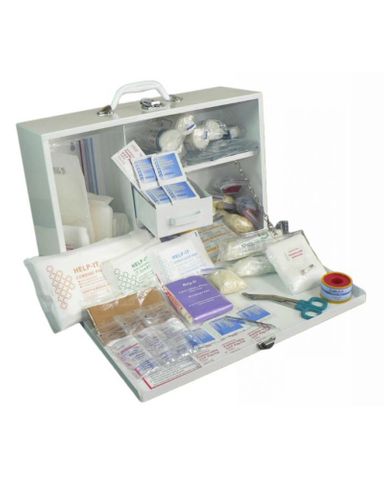 Regular Price:
$196.71 incl. GST
Description
- This extra-large kit comes in a sturdy wall-mountable metal box.
- Suitable for industrial workplaces with up to 50 people.
- These first aid kits are known for being some of the most
comprehensive and well stocked kits on the market. where some
other suppliers give you the bare minimum these first aid kits give
you everything you need.

- Kit Contents:
- 1x Triangle Bandage with 2 Safety Pins
2x Eye Pad
3x Large Wound Dressing
2x Medium Wound Dressing
2x Non Adherent Dressing 10cm x 7.5cm
2x Non Adherent Dressing 5cm x 7.5cm
4x Combine Dressing 20cm x 20cm
1x Combine Dressing 10cm x 9cm
2x Gauze Swabs 2's 7.5mm x 7.5mm
5x Antiseptic Wipes
6x Povidone Wipes
4x Wound Irrigation Solution
8x Roller Bandage 5cm wide
2x Roller Bandage 7.5cm wide
1x Fabric Plaster Roll 2.5cm
1x Paper Tape
1x 25 1, Plasters 7.2cm x 1.9cm
100x Fabric Fingertip Plaster
10x Fabric Knuckle Plaster
10x Fabric Dressing Strips 1m
1x First Aid Tweezers
1x Scissors
1x CPR Resuscitation Mask
3x Examination gloves (Pair)
4x First Aid Tips (not a replacement for training)
1x Aids/Hepatitis Warning Label
1x Clean up Bag
1x Metal Wall mountable Box.