Prevor

/

PREVOR DIPHOTERINE LMPE MURAL STATION
PREVOR DIPHOTERINE LMPE MURAL STATION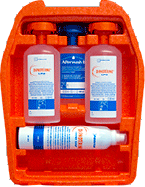 Price on Application
Description
Fixed and easily identifiable. Easy and ready to use.
Allows quick action without assistance. The entire face
can be washed, with an LPMD eyewash for each eye
and MINI DAP spray. Gentle washing without pressure.
Autonomous system. Sterile solution. Easy control of the
washing effectiveness: Use each single packaging in its
entirety. Easy and adaptable installation. Watertight, in
accordance with industrial hygiene and cleanliness. Without
special care and without special installation (no need for
electricity or evacuation, pipe or valve, no more leakage
problems). TGA Approved

- Please call our Prevor Specialist on 027 205 2493 for a quote.