TRAFFIC ESKO NIGHTSTICK DUAL-LIGHT HEADLAMP EA
TRAFFIC ESKO NIGHTSTICK DUAL-LIGHT HEADLAMP EA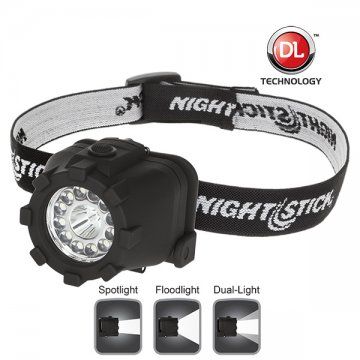 Description
- Combination Spotlight / Floodlight / Dual-Light™
- CREE® LED technology – 50,000 + hours LED life
- Focused spotlight beam for distance illumination
- Unfocused wide-beam floodlight for close-up illumination
- Dual-light (spotlight & floodlight at same time) for maximum versatility
- IP-X7 Waterproof
- Drop rated to 2 meters
- Impact & chemical resistant
- Engineered polymer housing
- Single switch located on top of light
- Adjustable ratchet tilt head
- Includes Non-slip elastic head strap and 3 AAA batteries

- The EH-DLH Dual-Light™ Headlamp features a
multi-position tilt head design.
- A single top mounted switch activates a 100-lumen
spotlight for distance illumination mode, a 45-lumen
close area floodlight mode and a 90-lumen dual-light
mode that turns both the spotlight and floodlight on
at the same time. Designed for heavy trades usage,
but not where intrinsically safe certification is required.