Home

/

RESPIRATORY 3M ASBESTOS HALF FACE KIT
RESPIRATORY 3M ASBESTOS HALF FACE KIT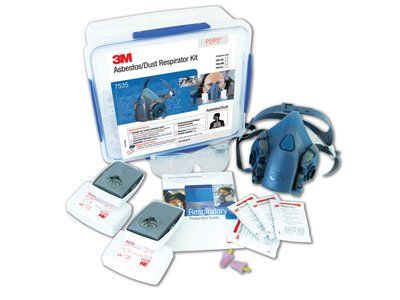 Description
- Convenient respiratory kit designed for asbestos
removal & environments containing dust. The kit
comes complete with the 3M™ Half Face Reusable
7500 Series Respirator & two pairs of 3M™ Particulate
Filters 6035 P2/P3*.

- The unique solid top particulate filter casing design
reduces premature caking & clogging from dirt, grime,
water or dust. The protective casing also aids
decontamination practices.

- Available in small, medium &large.

Kit Contains:
- 1 x 3M™ Half Face Respirator 7500 Series.
- 2 x pair of 3M™ Particulate Filters 6035 P2/P3*
- 1 x pair of 3M™ SecureFit™ 200 Series Safety Glasses,
AS/NZS1337.1 Medium Impact.
- 4 x 3M™ Respirator Cleaning Wipes 504.
- 1 x 3M™ No-Touch™ Foam Earplugs P2000, Class 4 (SLC80: 25dB).
- Handy Storage Container. Higher P3 Protection Factors only
achieved with a 3M Full Face Respirator, otherwise P2
protection level when worn on a 3M Half Face Respirator.