Home

/

FIRST AID KIT 1-5 PERSON WALL MOUNTED PLASTIC EA
FIRST AID KIT 1-5 PERSON WALL MOUNTED PLASTIC EA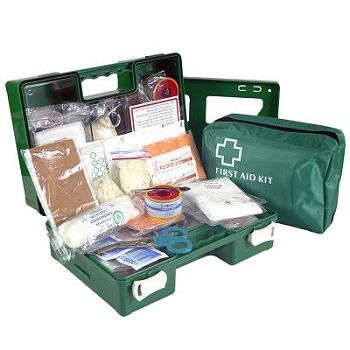 Regular Price:
$101.43 incl. GST
Description
- This small industrial first aid kit is designed for 1 - 5 people
and is well suited for work crews, small engineering firms,
workshops and more.

- This first aid kit contains:
2x Triangle Bandage
1x EyePad
1x Large Wound Dressing
1x Medium Wound Dressing
2x Non Adherent Dressing 10x7.5cm
1x Non Adherent Dressing 5x7.5cm
1x Combine Dressing 10x9cm
3x Gauze swabs
3x Antiseptic Wipes
60 ml Irrigation Solution
1x Roller bandage 5cm
1x Roller bandage 7.5cm
1x Plaster Fabric Roll
40x Plasters
1x 1m Fabric Dressing Strip
1x Tweezers
1x Scissors
1x CPR Resuscitation Mask
2x Examination gloves
1x first Aid Tips booklet
1x Wall Mountable Plastic Box
1x Clean Up Bag.