Home

/

3 Reasons why you need fire retardant garments at your work place
3 Reasons why you need fire retardant garments at your work place
In any work environment that exposes individuals to the risk of flash fires or explosions, something that could potentially prevent serious burn injury or help to save a life is necessary. When seconds separate disaster from safety, flame resistant protective clothing just might be the difference that can save a life.
Everyone working in industrial environments that have ignition hazards should wear fire retardant clothing. Fire retardant (FR) refers to a material's ability to self-extinguish once an ignition source is removed. Even if you haven't had an accident in years, the chances of someone getting seriously burned or worse are still very real.

Help prevent injury & death
The number one cause of severe and fatal burn injuries on the job is an individual's clothing igniting and continuing to burn - not the source of ignition itself.
The use of flame-resistant clothing helps provide thermal protection at the area of exposure. The level of protection resides in the weight and composition of the flame-resistant fabric. Once the source of ignition is removed, fire retardant garments will self-extinguish, allowing precious escape time and limiting the percentage of the body that is burned. Fire retardant clothing can greatly reduce the severity of any burn injuries.
Because accidents happen
It's cliché, but it's true. Even when an employee is following the proper safety regulations and the risk is low, accidents can still occur. Fire retardant clothing and personal protective equipment (PPE) are the last line of defense in protecting workers against the unexpected flash fire accidents. Remember, it's not a question of if an accident will occur. It's a question of when.
Comply with regulations
No matter where your business operates, work safe require employers to provide adequate protection from dangerous hazards in the workplace, especially with regard to burn injuries. In fact, companies are often cited and fined by OSH for not providing fire retardant clothing to their employees under 'Occupational Safety and Health Standards: Personal Protective Equipment'. Future changes to the requirements are expected to be even more stringent.
When you make a commitment to safety, everyone benefits from the company to the employees.
Here at Amare Safety, we stock all Argyle Flame Retardant clothing range. Argyle Flame guard fabric complies with the following performance standards: EN ISO 11612:2015 Al, A2, B1, C1, E1, Protective Clothing - Clothing to protect against heat and flame. EN ISO 14116:2015 Index 3 Protective Clothing - Protection against heat and flame - Limited flame spread. 13 cal HRC 2, Arc rating (Navy/Orange) as per ASTM F1959.
We have recently added arcguard fr overall ttmcs-17(x) 240gsm, arcguard fr industrial ttmcw-17 jacket & arcguard fr industrial ttmcw-17 trouser to our flame retardant clothing range.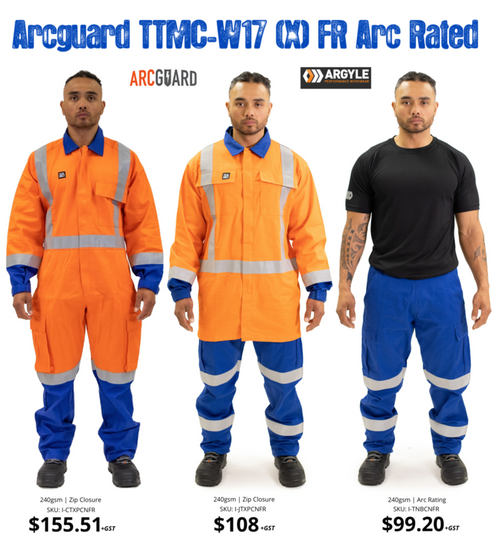 Have any more questions? Email or call us at 0800 262 736 or visit us at one of our 7 branches NZ wide. Or explore the range on our website www.amaresafety.co.nz